Customized Barcode and RFID Software
Alcor Global's Warehouse Management Solutions provide visibility into your inventory.
---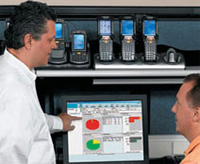 We create custom data collection applications using a wide variety of software development tools. With a large base of existing code, Alcor Global can quickly and economically product the application software you need for your data collection needs. With Alcor Global as your development partner, you can feel confident that your project will complete on schedule, on budget and will give you the desired results.
Custom Wireless/Mobile Application Developmen
One of the challenges facing many companies is that they have devices using more than one operating system. We have the capability to develop and integrate into a multitude of platforms including:
Windows Mobile Media 2003 OS
Symbian UIQ

Palm OS
Pocket PC 2000/2002 OS
Software Development Kit (SDK)
Depending on your hardware, and your application, we select the development tools that best satisfies your requirementss. SSG has the expertise to create custom software solutions including but not limited to:
Appforge Crossfire
ScanSeek
ScanSeek RF
RioScan SDK

ITScript
Alcor Global MCL
Global Bay (ASP)
Rovenet (ASP)

Data Harvester
Merlin
Merlin RF
Typical Applications
We have built batch, wireless, and wide-area applications. A batch application requires that the handheld device be placed in a cradle to synchronize its data with a host database. A wireless application uses a wireless LAN (Wi-Fi network) to communicate in real time with the host database. A wide-area application communicates over the Internet with a host database that can be located thousands of miles away.
A typical data collection system for a handheld terminal includes:
Series of data fields
Series of applications screens that follow a specific data collection workflow
Business logic layer to address error handling, logic branching, and "what if" scenarios

Data Upload/Download mechanisms to a host PC
Barcode/Label Generation
Reporting
Custom Client/Server Application Development
A typical Client/Server Application Development will consist of the same basic elements that a handheld application, however, will reside on a PC. These applications generally have a shorter development time since desktop SDK's are typically less time intensive to develop. A tethered or wireless scanner is typically integrated into the workflow of the application.
Database Architectures and Applications
A database will generally accompany a handheld or Client/Server Application Development. The database can also have a Graphical User Interface (GUI) to will allow users to manipulate, report, or export data through a series of custom screens.
Label Generation
Barcode label generation is generally associated with many of the SSG custom applications. SSG is very flexible in how we can provide label and bar code solutions to our customers. Typical Label Solutions include:
On-Demand label generation that is built into the Handheld or Client/Server Application Development.
Custom label formats to be used with Handheld or Client/Server Application Development.
Bartender/Nicelabel Template Design and data integration
Preprinted black/White and Color Labels
IntelliTrack Add-Ons/Modifications

Custom Modification of Commercial Off-the-Shelf (COTS) Software
Many client's require modifications of popular software packages, such as IntelliTrack. Here are some examples of how SSG can help with these types of development requests:
Additional Reports
Custom ScanSeek applications
Data Mapping
Custom Business Model drive add-on applications
Web Development
SSG provides web-based solutions that can include:
General web site design
Online data sharing including online database and FTP modules
Web Based Applications