Manufacturing Solutions
Streamline your process.
---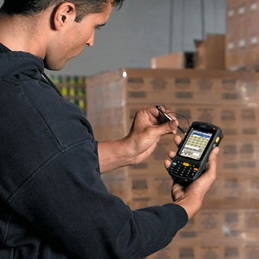 Alcor Global's Shop Floor Solutions combine wireless local area network (WLAN) enabled handheld computers, bar code and radio frequency identification (RFID) technologies with applications from market-leading automation partners to streamline your manufacturing processes.
By creating a more seamless flow of continuous, accurate documentation of the condition of machines and materials, you'll experience fewer errors and improve production.
Additional benefits:
Automate your KANBAN process, allowing employees to signal for replenishment without stopping workflow.
Allow material-handlers to find and deliver required parts more quickly.
Reduce line-side inventory with replenishment based on up-to-the-minute data.
Identify and validate parts used, and ensure the correct sequencing and completion of manufacturing steps.
Achieve total inventory visibility and synchronized manufacturing processes.
Monitor plant usage, line sequencing, throughput and machine performance to find and fix potential problems before they negatively impact schedules.