Direct Part Marking
Achieve new levels of product traceability and quality.
---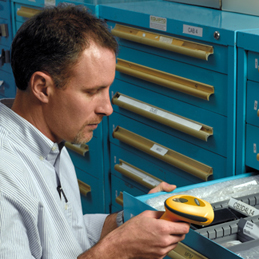 Tracking individual components can be a costly proposition when standard product labeling techniques fail to measure up over time. Direct Part Marking (DPM) provides a permanent marking solution that ensures readability throughout the life of your products — even when subjected to harsh environments during the manufacturing process.
Meet traceability requirements imposed by regulatory and government entities, such as the U.S. Department of Defense, with high-performance DPM readers from Alcor Global — the cost-effective alternative to standard vision systems.
Key benefits that can be realized include:
Increased worker productivity
Streamlined data collection
Improved data accuracy
Improved product quality
Compliance with traceability regulations, cost-effectively
Enjoy flexibility and performance
Give your production line and quality teams the flexibility they need to read DPM when and where they need to, while performing a variety of other tasks. Available in multiple form factors — a handheld or fixed-mount scanner, or a rugged mobile computer — Alcor Global DPM Readers read a wide variety of marks, including:
dot peening
laser etching
molding
casting methods
On multiple substrates, including:
Minimize investment and process changes
Track, monitor and manage parts ranging in value from pennies to millions of dollars with minimal investment or process change. Maximize production efficiency while leveraging the same DPM product investment to perform quality, warehouse and other line-side functions. Much less complex than traditional vision systems, Direct Part Marking solutions from Alcor Global are rapidly deployable with minimal user training.