Blood Transfusion Verification Solutions
Sync supply and demand, safely.
---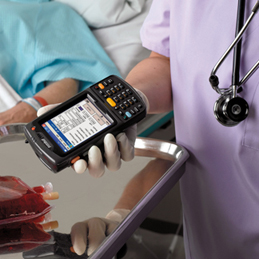 From the moment blood is drawn to the moment it's given, Alcor Global Blood Transfusion Verification Solutions help keep track of every drop.
By combining bar code technology and handheld computers with leading clinical IT and medical device applications, our blood transfusion verification solutions let you accurately handle today's blood supplies.
Additional benefits:
Get immediate detailed access to serial number, donor data, blood data, donation date and expiry on every unit of blood stored, shipped and dispensed.
Track the quantity of different blood types in stock, to keep enough at hand to meet demand.
Reduce the amount of blood that expires before it is used.
Accurately match more blood donations to actual patients.