Medication Administration Solutions
Reduce mistakes and increase patient safety.
---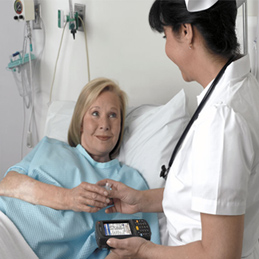 Patients rely on their healthcare professionals for quality medical care.
By combining handheld mobile computing, wireless local area network (WLAN), bar code technologies and leading clinical IT and medical device applications, Alcor Global Medication Administration Solutions help hospitals ensure the right patients get the right doses at the right time.
Additional benefits:
Reduce the possibility of human error by being able to access the most current data about patients and their medications.
Avoid second-guessing and bedside redundancies with bar code technology.
Allow medical professionals to spend more time on high-value patient care by capturing vitals and charting treatment information instantaneously with mobile computers.
Save money and time by avoiding costly medical mistakes.
Gain consistency in patient care.