Hospital Communications Solutions
Open the flow of communication.
---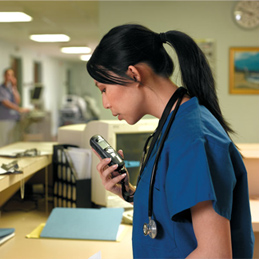 Mobile communications technology improves the ongoing and critical dialogue between medical staff. Records are accurate. Research is readily available. Diagnosis and treatment are streamlined.
By combining wireless local area network (WLAN)-enabled mobile computers, voice over WLAN and leading clinical IT and medical device applications, Alcor Global Hospital/Nurse Communication Solutions help caregivers get back to their top priority — spending time with their patients.
Additional benefits:
Redefine on-call care by routing calls for help directly to the primary caregiver.
Delegate low-priority requests to hospital staff quickly.
Diagnose dangerous drug interactions immediately.
Order and deliver requested medications and specimens with fewer trips to the hospital.
Doctors can respond promptly to questions allowing their staff to be more productive.
Reduce time spent researching medical records, so caregivers can diagnose and treat patients more quickly.